The crafting of tea rituals is a practice as old as time. The ritualized form of steeping tea is a deeply entrenched cultural ceremony, especially in the eastern part of the world, which involves the ceremonial preparation and presentation of tea. The practice first originated in China, it was widely accepted and popularized in the countries of Japan and Korea.
The purpose of tea rituals and ceremonies is simple. It is meant to create a sense of aesthetics that elevates the everyday experience allowing room for refinement and spiritual contentment through extremely simple practice. It is a way to connect with your own self, the inner workings of your mind and with the right ritual, one can become more centered, reflective, and mindful.
For your everyday ritual, you only require 10 minutes of your time to transform your day into a more meaningful one. Here is how you can do it.
CHOOSE YOUR TIME
Before you get started, it is important to figure the time of day you are most comfortable taking a little pause to connect with yourself and your environment.
If you are a morning person, use the time to set your intentions for the day. Practice simple visualization exercises to be in touch with your desire. Or you can simply choose to meditate.
While afternoons are not widely popular for tea rituals it can be essential to rejuvenate yourself, especially after a hectic morning. It will increase productivity and create energy to finish the day on a more positive note.
Given that you intend to wind down and release stress, nighttime would best suit your ritual. Accompany your time with teas of chamomile, lavender, ashwagandha(Indian ginseng) to melt the tension off of your body. This will contribute to better sleep and better mental health.
Choose the time according to your needs, which allows you to be present and connected, and would best benefit from a little break.
CHOOSE A PLACE
A clean space always creates a more relaxed mind. Space that is open with access to sunlight and clean air works like a charm for tea rituals.
Decluttered space that is open to warm light and clean air is always a good place to start. In case of less space or modern living spaces, simply ensure clean surroundings to enjoy your little tea moment.
CHOOSE YOUR TEAWARE WITH CARE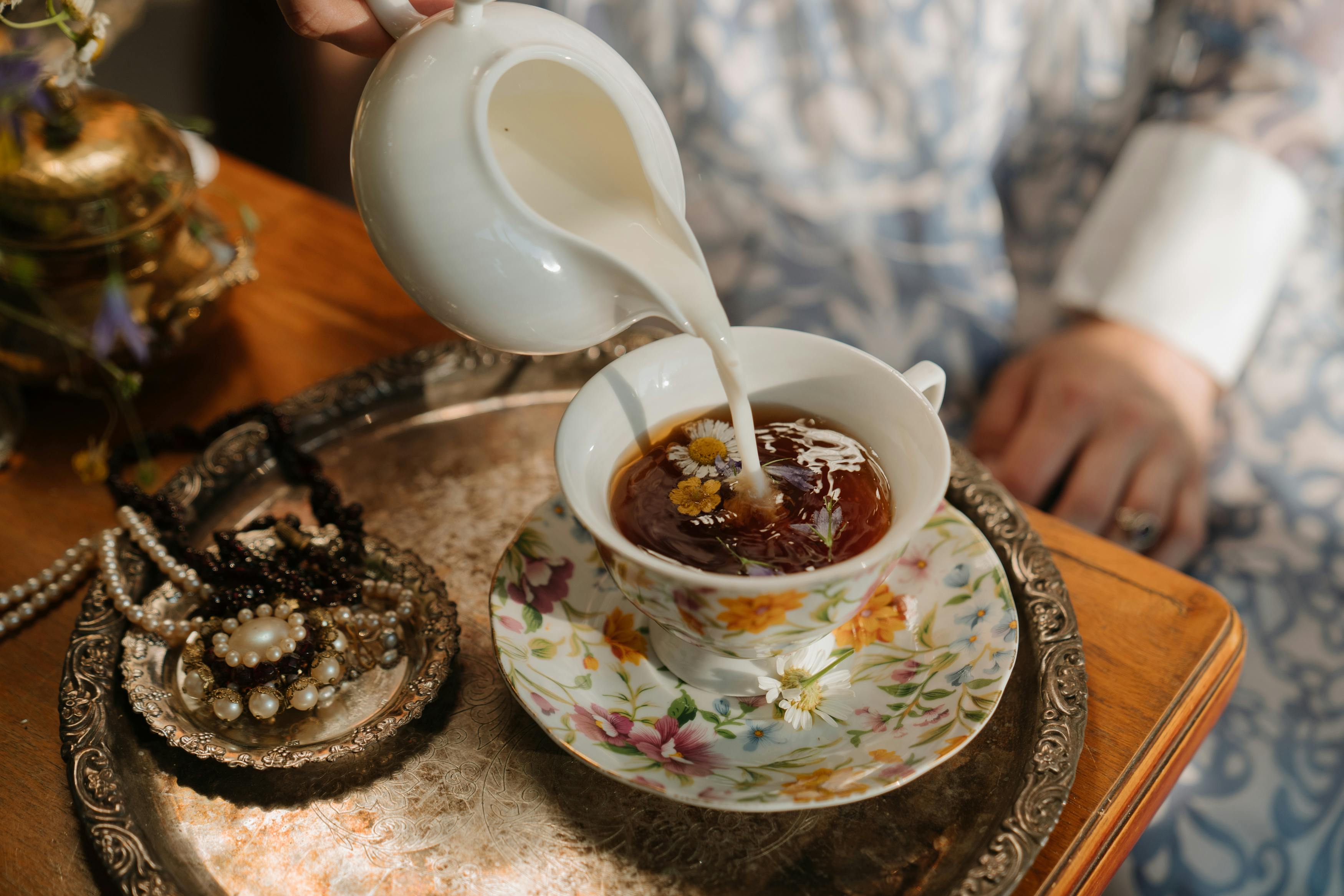 From storing your tea in the right ware to the cup you choose, it all has an impact on your tea ritual.
Store your tea in a special air-tight container and select a favorite steeping set. With the variety available you can choose from clay wares, porcelain to handcrafted and hand-painted china tea sets.
It is important to remember that your tea ritual is a sacred time and a little effort to make it visually appealing will make your keener to repeat the process every day.
DON'T FORGET THE TEA
Last but the most important facet to complete your tea ritual is the type of tea you choose. It is best to choose loose-leaf tea for rituals, as it is fresher and more aromatic compared to teabags.
You can use your favorite tea variety or experiment with new teas and blends.
The entire course of a tea ritual from beginning to end requires simple mindfulness, drawing your concentration from the pot to the teacup. Observing the water coming to a full boil to watch the leaves unfurl after being added to the water is a form of seated meditation that allows you to be wholly present in the moment. It awakens your senses and makes you more receptive to the energy surrounding you.
ENGAGE YOUR SENSES
Tea Ritual Tips to Engage Your Five Senses Include:
Dress for the moment. Picture it in your head what outfit feels right. Loose comfortable clothes or elegant designs.
Create a playlist. Sound memory adds a wonderful incentive to repeat the process and create a relaxing moment.
Just like sound, smell plays a powerful role in rituals. Light up incense or candles as you prefer. Inhale deeply the smell of the leaves before adding to it the pot. The freshness will do wonders for your mood.
Seeing is meditative. Simply watch the tea leaves unfurl and the color of the water change as the tea steeps.
Consciously consume your tea. Don't go too fast as that will erode the meaning of the moment. Sip with care, savor each note every layer.
Keep it flexible. It is ok if you miss a day here or there of your tea ritual or if it doesn't happen at your preferred time. The ritual is meant for you to enjoy and not create more stress.
Amidst the hustle of the day, tea rituals serve as excellent reminders to slow down and take a pause moment to benefit the mind and soul. Crafting your own tea ritual, with only 10 minutes of the day, is your gateway to life more focused, relaxed, and above all, mindful.
Feature banner by Michelle
(Visited 782 times, 1 visits today)